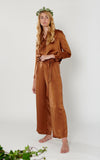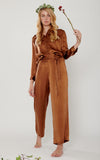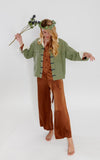 Description:
YALI Loungewear is inspired by Italian Renaissance paintings and Chinese Traditional Crafts. We make all of our styles with traditional textiles, adorned with hand-crafted details and can be used from early morning to late night.
Our loungewear is made with 100% silk from Suzhou, the Chinese capital of Silk since over 5,000 years. We travelled to China to research and develop new design, textiles and colours blends. 
We use very specific textiles, rare to find and which require specific and intrigued skills to make. 
Details:
100% Suzhou Silk

Silk Wrapped Dot fastening system

Dry Clean Only
Size and Fit:
View Size Chart